Highlands Sites in New Jersey
The drive westward along Route 23 north of I-80 passes through residential neighborhoods sprawling across the rolling lowlands of the Passaic River Valley. Just west of Pompton Lakes the land rises steeply along the eastern front of the Ramapo Mountains. This mountain front reveals a hidden structure in the region: the Ramapo Fault. This fault is the boundary between the western edge of the Newark Basin and the northern New Jersey Highlands (Figure 36).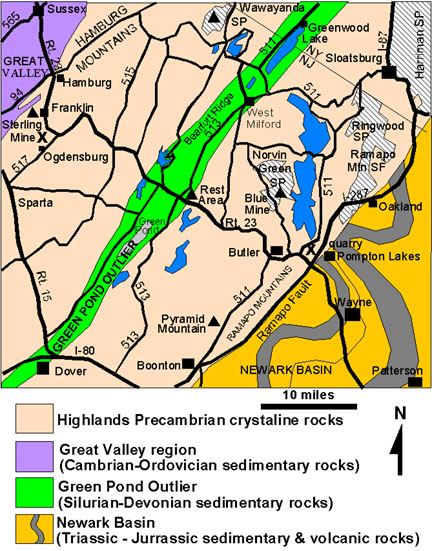 Figure 36. General geologic map of the northern New Jersey region (modified after Lyttle & Epstein, 1987).
The escarpment exists because the softer sedimentary rocks of the Newark Basin erode much faster than the Precambrian age crystalline rocks of the Highlands region. The high peaks of the Ramapo Mountains (the general term for the low mountains and high hills along the eastern edge of the Highlands region) range in elevation from about 500 to near 1,000 feet. The uniform elevation of the hilltops throughout the region is characteristic of the Schooley Peneplain, a mid-Tertiary erosional surface. (This feature is named after Schooley Mountain, a flat-topped ridge along the eastern side of the Highlands about six miles north of Round Valley State Park in Washington Township, Morris County, New Jersey.) Streams draining this Highlands plateau have carved valleys into the uplifted erosional surface along zones of weakness, creating the scenic character of the region. Like elsewhere, the New Jersey Highlands was scoured by Pleistocene continental glaciers.
The geology of the New Jersey Highlands is complex. The rugged topography and surficial bedrock exposures partly reveal the chaotic structure of the region, however the true character of the subsurface is generally unknown. Figure 37 illustrates a hypothetical cross section of the New Jersey Highlands along Route 23. This diagram is an interpretation showing a series of gently eastward dipping thrust faults consistent with trends of other known Taconic-age thrust faults in the region. Whether a basement sole detachment fault similar to that proposed for the southern Appalachian region exists at great depths in New Jersey is unknown. The region was subjected to additional compression-style deformation during the Acadian and Alleghenian Orogenies, and to extention-style deformation during the development of the Early Mesozoic rift basins. Structures associated with these orogenic phases are imprinted on the ancient and complex Grenville crystalline basement rocks. As a consequence, faults and bedrock structures in the Highlands region have exceedingly complex histories that are challenging to discern.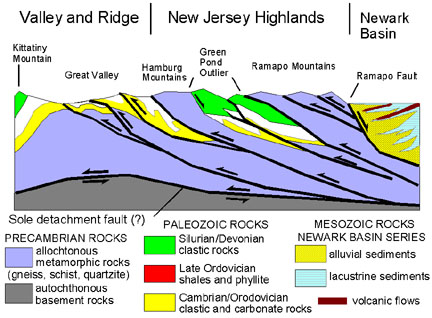 Figure 37. Hypothetical cross section along NJ Route 23 across northern New Jersey (after Lyttle & Epstein, 1987).
Field localities discussed below are only a partial representation of the geologic features of the region. However, the sites presented provide information about classic geologic features, and highlight the long and varied history of mineral extraction and land use in the region.
15. Pyramid Mountain Natural Historic Area
16. Norvin Green State Park
17. Route 23 Rest Area
18. Wawayanda State Park
19. Franklin/Ogdensburg Mineral Resource Area
Geology along Interstate 80 in the New Jersey Highlands
20. Jenny Jump State Park
Geology along Interstate 78 in the New Jersey Highlands
21. Round Valley State Park
22. Leigh Cavern