20. Jenny Jump State Park
The Jenny Jump Mountains were named after a colonial girl who allegedly followed her father's suggestion to jump of a cliff to avoid being ravaged by stalking Indians. That jump proved to be fatal. Today part of the mountainous area is preserved as wooded parkland of Jenny Jump State Park.
Extending northeast through park is a high ridge with exposures of foliated gneiss along its crest. The rock along the western side of the ridge and in many patches along the ridgetop are barren of topsoil. This is an indication that the Wisconsin ice sheet overran the hilltops in this region, even though the southernmost terminal moraine of the Wisconsin glacier is located only a couple miles to the south. The ice at Jenny Jump must have been well over 1,000 feet thick. The rolling topography in the valley between Hope and the park are terminal and recessional moraines which accumulated as the continental glacier haltingly melted and re-advanced before completely vanishing from the region about 20,000 years ago.
The Summit Trail which leads to two overlooks is a gentle climb that is less than a quarter of a mile. The two prominent lookout areas are well worth the walk. They offer an open west-facing view for nearly twenty miles across the Great Valley to the high ridge of Kittatinny Mountain and the Delaware Water Gap. The first overlook closer to the trailhead parking area is an open, rugged patch of layered hornblende granite gneiss (Figure 46). The barren exposures are fringed with pitch pines attempting to establish a hold on the barren rock. A few hundred meters beyond the first overlook is a second barren patch of gneiss bedrock that provides a better view of the Great Valley. Near this second vista point is a collection of large glacial erratics. Most consist of local gneiss, but one consists of hard, banded quartzite, probably Cambrian Hardyston Sandstone (Figure 47). This large boulder is elevated on smaller blocks, and is reminiscent of Tripod Rock on Pyramid Mountain, only on a smaller scale.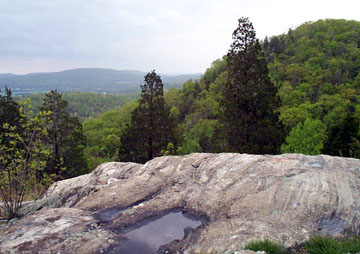 Figure 46. A glacier-scoured, layered gneiss outcrop in Jenny Jump State Park provides a westward view across the Great Valley to Kittatinny Mountain in the distance.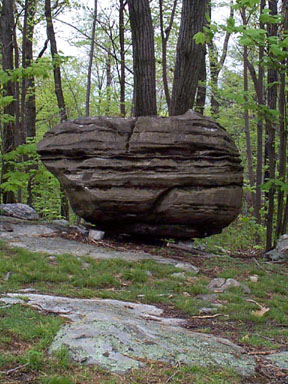 Figure 47. A pedestal glacial erratic of Cambrian Hardyston Sandstone resting on Precambrian gneiss on the ridge top at Jenny Jump State Park.