17. Route 23 Rest Area
About 10 miles north of the town of Butler on Route 23 is a roadside rest area along the northbound lane. Several hundred feet north of the northbound exit ramp from the rest area onto Route 23 is a road cut revealing layers of gneiss that have been folded into a series of anticlines and synclines (Figure 40). Extreme care should be used when examining these folds as traffic along the highway is both heavy and fast during the morning and afternoon rush. It is perhaps best to only take a fast glimpse of them while driving by. The better view is actually from the southbound lane, but they are easy to miss if you didn't note their location while driving northbound. These structures are in gneiss of Late Proterozoic age, however, it is unclear whether the folds formed during the Precambrian or were formed or modified during one of the Early Paleozoic orogenies.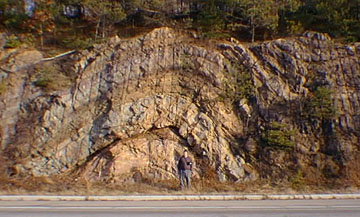 Figure 40. Anticline and syncline in layered Precambrian gneiss along NJ Route 23 near the rest area exit ramp (west of Butler, NJ).
The hillside above the rest area is strewn with a mix of large boulders of gneiss and chunks red and white puddingstone consisting of large quartz pebbles and reworked sandstone embedded in a red, iron-rich matrix. These blocks are glacial erratics derived from the Silurian Skunnemuck Conglomerate (formed by erosion of the Taconic Mountains) which crops out nearby in the Green Pond Outlier, a large, complex synclinal trough filled with Early and Middle Paleozoic sedimentary rocks trending northeast through the heart of the Highlands of the Reading Prong. More discussion about the Green Pond Outlier is discussed in the next section.