Arches National Park
A photo tour featuring park geology
Click here to start a 3D tour of the park. You will need 3-D glasses to view this series of anaglyphic images.
Click on any of the images to continue to the next page in the linked series of web pages.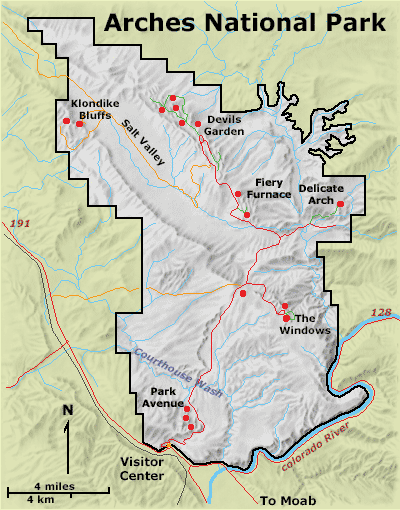 Map of Arches National Park. Click on the "Next Image" (below) to continue on the image tour, or click on any of the small red dots on the map above to go directly to selected images.

Click here to see more geology tours of National Parks.
Check out the National Park Service's Arches National Park site - http://www.nps.gov/arch/
Click here to see information about park stratigraphy and published reports about park geology.

National Park Service, 2005, Arches National Park Geologic Resource Evaluation Report Natural Resource Report NPS/NRPC/GRD/NRRó2004/005, 55 p.
http://www.nature.nps.gov/geology/inventory/publications/reports/arch_gre_rpt_print.pdf

Click here to see selected reference used for interpretations on this website.
This website is an image tour of Arches National Park. All pictures were taken in 2003 and with several additions in 2008. The 3D images are anaglyphs, and require red and cyan 3-D viewing glasses.
| | |
| --- | --- |
| | A search on the World Wide Web will yield many sites about anaglyphs and where to get 3-D glasses. |
This page is <https://gotbooks.miracosta.edu/gonp/arch/>
Last modified Mon 7/28/2010