37. High Point State Park
High Point (1,803 feet) marks the highest elevation of New Jersey located on the northern end of Kittatinny Mountain (see Figure 72). North of High Point, the steep dip angle of the resistant ridge-forming beds of Silurian Shawangunk Conglomerate gradually diminishes northward into the New York region. There are numerous exposures of this white-to-gray conglomerate and sandstone throughout the park.
The park was established in 1923 as a combined recreational, water, and wildlife conservation area. It now encompasses 14,056 acres, and extends from the New York state line south and west where it joins Stokes State Forest. The park entrance is located on NJ Route 23 northwest of Sussex, New Jersey.
The High Point Monument, a large obelisk-style monument was constructed at the crest of the mountain resting on a foundation of Silurian Shawangunk Formation (Figure 80). It was constructed in the years 1928-1930, and rises to a height of 220 feet. It is faced with New Hampshire granite and local quartzite. When open, the top of the monument provides a scenic view of the entire region: northward over the a broad valley (the Port Jervis Trough) to the high plateau of the Catskills region. The view to the west encompasses the Delaware River Valley with the plateau of the Poconos along the skyline. To the south the sinuous path of Kittatinny Mountain can be traced for over one hundred miles (Figure 81). The view eastward encompasses the broad expanse of the Great Valley region to mountain tops of the western Highlands of New Jersey.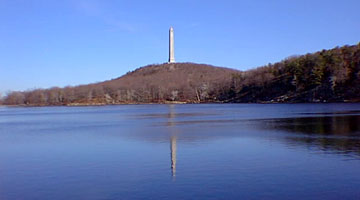 Figure 80. The monument at High Point, New Jersey reflecting off of Lake Marria in the foreground.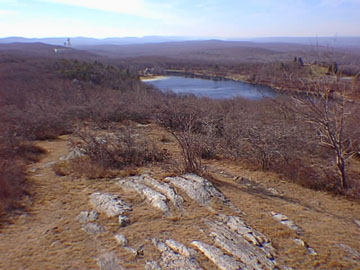 Figure 81. The southwest view from High Point showing the sinuous crest of Kittatinny Mountain (on the left)) overlooking the Delaware River Valley. The plateau of the Pocono Mountains is on the right. Steeply dipping Silurian Shawangunk Conglomerate is the resistant ridge- forming rock visible in the foreground; Lark Marria is beyond in the center of the view.
The park is host to numerous hiking trails, including a seven mile stretch of the Appalachian Trail. Many of the trails were constructed by the Civilian Conservation Corp during the Great Depression. The Monument Trail leads northward about one mile from the monument to the Dryden Kuser Natural Area along the state border, a natural area that supports a mixed conifer, pine, hemlock, spruce, and most unusual for this elevation and latitude, a swamp with a mature stand of southern white cedar. Throughout the park, rhododendron dominates the underbrush, and blooms in late June.