Delaware River Valley and Kittatinny Mountain Region
The Valley and Ridge region in western New Jersey and eastern Pennsylvania is a continuation of the general stratigraphy and structure of the Hudson Valley and Catskills region with some noticeable exceptions (Figure 72). The primary clastic sediment source areas during the Taconic and Acadian Orogenies were to the northeast in the New England region. As a consequence, the coarse clastic units grow progressively thinner and finer grained. In contrast, the marine mudrocks and carbonate units generally grow progressively thicker toward the southeast where shallow inland seas invaded the Appalachian Basin region for longer periods of time. In addition, the structural deformation associated with the Alleghenian Orogeny grow progressively greater to the south. North and west of Kittatinny Mountain the great folds of the Valley and Ridge steadily flatten out. North of the New York/Pennsylvania border, the structural deformation is limited to a series of very gentle, broad anticlines and synclines. Many of these anticlinal structures are host to oil and gas reservoirs that are largely depleted after nearly a century of production.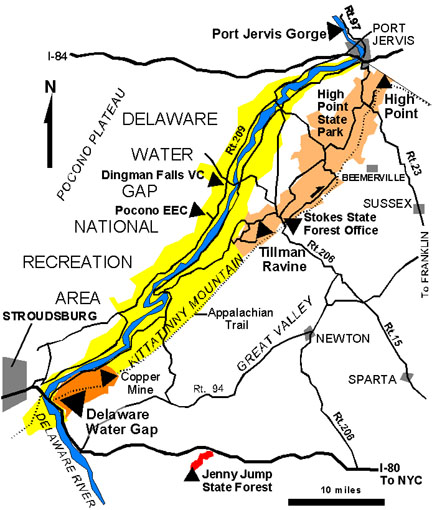 Figure 72. Map of localities on Kittatinny Mountain and in the surrounding region along the New Jersey/Pennsylvania border.
Route 209 continues to follow southward along the same outcrop belt of the less erosionally resistant shale and limestone beds of the Devonian Helderberg, Tristates, and Hamilton Groups. This valley, called the Port Jervis Trough, is a continuation of the same valley followed by Route 209 southward from the Catskills region of New York. Between Port Jervis and Stroudsburg, Pennsylvania, the Delaware River follows the strike of this belt of Lower and Middle Devonian strata. The rocks are steeply dipping toward the west. To the east, the Silurian Shawangunk Formation forms the crest of Kittatinny Mountain, and to the west, the Late Devonian Catskill Group forms the erosionally dissected plateau of the Pocono Mountains. Much of the Delaware River Valley and Kittatinny Ridge in New Jersey are part of the Delaware Water Gap National Recreation Area.