The Shawangunks
The scenic "trapps" of the Shawangunk Mountains that are so popular to mountain climbers are the physiographic expression of the eastward facing escarpment of erosion-resistant Silurian age conglomerate and sandstone. The Shawangunks rise nearly 2,000 feet above the western side of the Great Valley west of New Paltz, New York. In contrast to the reddish sandstones and conglomerate of the Catskills, the Shawangunk Conglomerate approaches nearly white in color (consisting of clasts of nearly pure milky quartz), and is more tightly cemented (the cement is dominantly silica with relatively little iron oxide minerals). These characteristics add to the scenic grandeur and the good rock climbing quality of the Trapps.
The scenic landscape of the Shawangunks consists of both public and private lands that are set aside as a 25,000 acre natural area for recreation, wilderness and watershed. The primary recreational areas include the grounds of the Mohonk House, the Mohonk Preserve, and Minnewaska State Park (Figure 65). Spending a day hiking in the Shawangunks is a wonderful experience, especially during the fall foliage and the period that the mountain laurel is blooming in late May to early June. The park and the preserve both require day use fees, however several overlook turnoffs along Route 44 are good locations to stop and examine the geology and scenery. An overlook parking area just east of the Trapps Bridge is situated just below the Taconic angular unconformity, the contact between the steeply-dipping Ordovician Normanskill Shale and the overlying, gently-westward-dipping Silurian Shawangunk Conglomerate that forms the Trapps (ledges) along the ridge top. The overlook provides a broad view of the Great Valley extending to the Hudson Highlands to the south, and the Taconic Mountains to the east.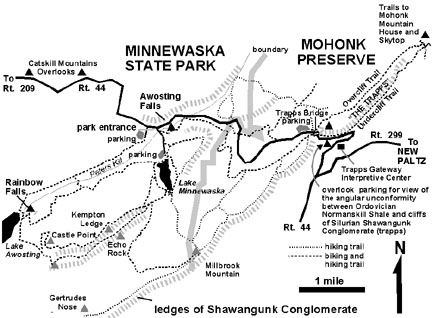 Figure 65. Map of the Shuwangunk Escarpment (Silurian) in the Mohonk Preserve and Minnewaska State Park west of New Paltz, New York.
Additional overlooks are located between four to five miles west of Trapps Bridge (see Figure 65); these are located several miles east of the intersection of Route 44 with Route 209. At these overlooks, cross bedded sandstone and conglomerate beds of the Shawangunk Formation crop out in road cuts and in barren hillside along the highway. Where the trees have been cleared away, these overlooks also provide clear and sweeping views of the Catskill Mountains to the north across the long, broad valley (the Port Jervis Trough) where Route 209 follows the strike of the rock formations beneath the surface. This valley is underlain by the less erosion-resistant shales and carbonate rocks of the Devonian Helderberg, Tristates, and Hamilton Groups. The combined effects of the erosional scour of Pleistocene glaciers and weathering in the cool, moist temperate climates between periods of glaciation have contributed to the carving of this valley between the more resistant sandstone and conglomerate of the Silurian Shawangunk Formation and the Late Devonian Catskill Group (see Figure 56 on the Hudson River Valley page).