The Story of Atlantic Sea Coal Deposits
The abundant occurrence of coal on area beaches is an indication that the Valley and Ridge Province is a source of sediment, both by natural and human activity. Evidence that the existence of coal is not entirely anthropogenic is suggested by historical evidence: "October 9, 1677, John Thompson of Setauket has a permit to go to Flushing and other ports of Long Island to search for sea coal, of which he hath probable information" (Hint, 1967). This very early report suggests that ample amounts of coal already existed on area beaches long before the mining of coal in the region had begun.
The low density and hard character of Appalachian coal allows it to survive long distance transport via rivers that drain the Appalachian region into the Atlantic. Fragments of Appalachian coal can be found in ancient river and coastal floodplain deposits throughout the region (Cretaceous age and younger). Through time, the Delaware River has transported sediments from the Valley and Ridge region onto the Atlantic coastal plain through the Delaware Water Gap. In the past, other rivers have contributed sediments from the Valley and Ridge Province directly to the New York City region. Coal was actually mined at one time from river placer deposits throughout the Appalachian Mountains, including the Delaware River near Philadelphia. The existence of coal in Cretaceous and younger sediments is evidence that Valley and Ridge erosional detritus has been deposited and reworked into progressively younger sediments, including modern beach deposits.
The "sea coal" that John Thompson of Setauket had a permit to collect may also have consisted of scattered lignite deposits that occur in the Cretaceous Raritan and Magothy Formations. These formations crop out intermittently beneath the glacial deposits along the north shore of Long Island. Lignite bearing large quantities of low-grade amber was excavated in clay and sand pits in these same formations along the Arthur Kill on Staten Island and in the Sayreville and Perth Amboy areas of New Jersey. Lignite was used to supplement charcoal used for baking bricks and heating fires during the early industrial development along the lower Raritan River Valley.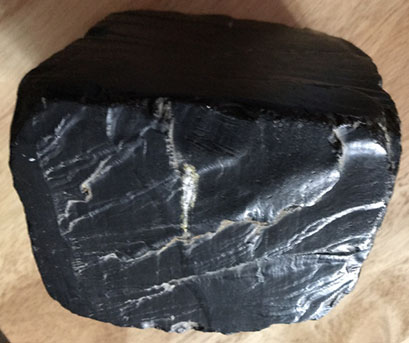 A chunk of sea coal (anthrocite) from wrackline deposits along Rockaway Beach, New York
Unfortunately, some of the coal chunks found on area beaches today are most likely a result of the reworking of cellar ash from coal furnaces that were dumped in the New York Bight, or spillage from ships (both intentional and accidental; possibly hundreds of ships were sunk in the New York Bight by primarily German submarine attacks during the two world wars). Coal remained the primary source of heat in public buildings and in power facilities in the New York City metropolitan area until the late 1960s when clean air standards went into effect and the New York area became the primary port for the importation of foreign crude oil. In any case, the coal that washes up on area beaches frequently has a smooth polish from tumbling in the surf; at times it occurs in great abundance. These often large chunks of anthracite that make beautiful laboratory hand specimens (or exceptional Christmas presents!). Some anthracite specimens display iridescence or are of high quality to be considered "jet" - a jewelry grade of semiprecious coal.