60. Penn Forest State Park
One of the most popular attractions in the pine barrens is a canoe trip that starts below the dam at Oswego Lake on the Oswego River. However, bordering the river is one of the least visited regions of the pine barrens preserved in Penn State Forest. This 3,300 acre area became a park after a great commotion arose when the land came under speculation to be developed into a major regional airport. Although a park by name, it has never been developed and lacks on-site management or facilities.
The easiest way to Penn Forest is to take Exit 67 off the Garden State Parkway and head east on Route 72 (see Figure 135). Bear left onto 532 to Chatworth. From Chatworth follow Route 563 south for about 10 miles. Along the way you will pass through the town Speedwell and pass several scenic cranberry and blueberry farms. About 4 miles south of Speedwell keep an eye open for Penn Place Road on the left that leads to Oswego Lake. If you find yourself in Jenkins, you have gone about 1.2 miles too far. Follow the Penn Place Road east about 3.4 miles to Oswego Lake. The lake is located along the south side of the park; it is an abandoned reservoir that was used for cranberry cultivation. Oswego Lake is a popular swimming area in the summer, and a fishing and picnic area year-round.
Like other parks in the Pine Barrens there are numerous sand roads that are ideal for hikes in the late fall to early spring (after and before bug season). Of geologic interest is Bear Swamp Hill, another remnant of the Beacon Hill Gravel that rises to over 200 feet in elevation. To get to the hill, walk or drive along the road east from Oswego Lake Picnic Area, about 1.2 miles; then bear left onto a well maintained gravel road. Proceed north on this road for another mile. The road to the top of the hill will be on the right. It winds just few hundred yards to a parking area at the summit next to the foundation of an old fire tower.
The hilltop is covered with pine and mountain laurel, so unfortunately, there are no unhindered views of the horizon. Along several trails that traverse the hilltop are exposures of gravel that consists entirely of quartz pebbles, however there is quite a variety of different varieties of quartz (Figure 140). The most common variety is vein-filling-type quartz probably derived from crystalline metamorphic rocks of the Appalachians. This quartz is usually white with an abundance of healed microfractures throughout. Pebbles of quartzite, the product of metamorphism of sandstone, are easy to recognize by sugary texture on freshly broken surfaces or banded layering in some pieces. Quartz from igneous rocks tends to be homogeneous in composition, but varies from nearly clear to solid milky white. Quartz crystal, derived from cavities in sedimentary rocks, is clear and occasionally it original hexagonal crystal structure is preserved. Quartz in the form of chalcedony or agate is derived primarily from chert nodules or vein fillings in sedimentary rocks. It usually has a pale-gray to brown, orange, or red color, and has a very smooth to powdery texture. It is fun to sit with a picnic lunch on these outcrops and go through the gravel in search of "Cape May Diamonds," the name for any clear quartz pebble with smooth, rounded surfaces. These deposits on top of Bear Swamp Hill look quite similar to storm gravel deposits that accumulate on coastal beaches.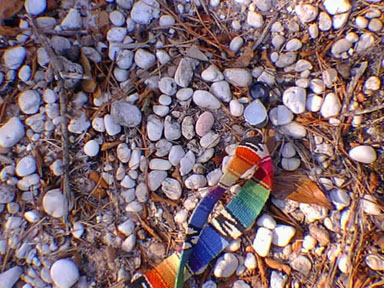 Figure 140. Quartz pebbles of the Pliocene Beacon Hill Gravel amongst pine needles on Bean Swamp Hill in Penn State Forest.