53. Big Brook
Consider combining a trip to Poricy Brook with a trip to Big Brook, another locality where sedimentary rock units of the same age (and slightly older) crop out. A trip to both locations offers an excellent opportunity to examine problems in stratigraphic correlation. Observe the character of the sediment, the bedding structures, and the occurrence of shell beds in both locations. Also hunt for changes in lithology (unconformities) that define the boundaries within the stratigraphic sequence exposed along the brook: the Wenonah, Mt. Laurel, Navesink, and Redbank Formations (Figure 130). For descriptions of the strata and fossils of these formation see the Cretaceous Stratigraphy page.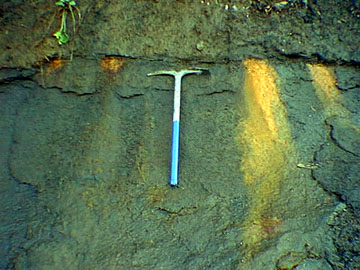 Figure 130. A disconformity at the base of the Late Cretaceous Navesink Formation along Big Brook (Monmouth County, NJ) is highlighted by iron-stained deposits associated with groundwater seepage.
Outcrops along Poricy Brook and Big Brook have been intensely studied since the early 19th Century, and they are classic geology study localities. Unfortunately, urban growth around these sites is causing a myriad of concerns regarding public access, collecting, and resource protection, especially in the Big Brook area (where a large farm bordering the brook was recently subdivided into lots). Fortunately, most of the land along Big Brook is accessible to the public, although some of it is not, and is now posted "no trespassing." The development around the Big Brook locality is particularly tragic, not only because it is a famous field study area, but also because it was one of the last large remaining green spaces in that portion of the county. It is a wonderful experience to wade quietly along the creek in the late spring and listen to the hawks calling far overhead.
To get to Big Brook, go south on the Garden State Parkway to Exit 109. After passing through the toll gate turn right (west) onto Newman Springs Road (Rt. 520). In about seven miles, turn left (south) on Route 34. After traveling south about two miles on to Route 34, turn right on Conover Road. Just under a mile farther bear right onto Crine Road. After just over another mile turn right onto Hillsdale Road. In about a half mile, the road dips down to a bridge across Big Brook. On the north side of the creek, the county has provided public parking for access to the trails along Big Brook. It is possible to access the creek in both directions for a long way upstream or downstream from this location. Again, be prepared to get both wet and muddy. Do not attempt to wade the creek during high water, and also, be vigilant to watch out for both ticks and poison ivy!
On a group field trip, it is advisable to go to Poricy Park first. The conditions at Poricy Brook will provide an idea of how dangerous stream conditions are for the larger stream at Big Brook. Rules for access and collecting apply to both localities (find someone who is knowledgeable about current rules). As mentioned above, the park Visitor Center at Poricy Park has a small but interesting display of fossils from the brook. The building is located north of the Poricy Brook bridge parking area off of Oak Hill Road, a right turn off of County Road 50. If the weather is cold, or if the stream level is high because of recent rains, perhaps a better trip alternative would be to go for a walk at Tatum Park nearby.