31. Bearfort Mountain
Bearfort Mountain in New Jersey is an extension of the same hogback of Skunnemunk Conglomerate that forms the crest of Schunnemunk Mountain and Bellvale Mountain in New York (see Figure 67 on the Green Pond Outlier page). The mountain rises along the western shore of Greenwood Lake and continues southeast as the ridge above the valley followed by Route 513. At West Milford, New Jersey, Route 513 runs west and follows a stream valley that cuts into the ridge. About a quarter mile west of the intersection with Warwick Turnpike, exposures of puddingstone of the Skunnemunk Conglomerate crop out on either side of the Route 513. Outcrops, with pull offs, continue along the road for the next half mile (Figure 70).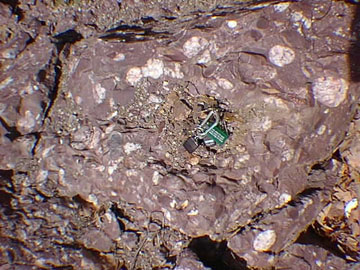 Figure 70. An exposure of puddingstone (Late Devonian Skunnemunk Conglomerate) along NJ Route 513 on Bearfort Mountain, north of West Milford, New Jersey; car keys are for scale.
Most of the ridge to the south of Route 513 is part of the Bearfort Mountain Natural Area of Wawayanda State Park. The land to the north of Route 513 is part of Abram S. Hewitt State Forest. Individuals willing to endure a long, rough hike to the top of Bearfort Mountain are rewarded with spectacular views of Greenwood Lake and the Highlands region to the south (Figure 71). The ridge display many barren exposures of puddingstone that in many locations and displays glacial grooves and striations, or is covered with erratics. One of the access trails to the top of Bearfort Ridge begins just west of West Milford, New Jersey near the intersection of Routes 511 and 513. The trail head is located just west a low cement bridge near the intersection. The trail climbs steeply and becomes increasingly rugged as it approaches the top of the ridge. Almost three miles north of the road this trail leads to a very scenic glacial pond high on the ridge, and to several spur trails that lead to high, barren puddingstone outcrops overlooking Greenwood Lake.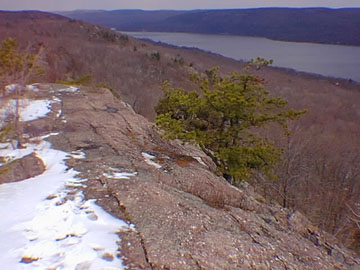 Figure 71. View of the barren ridge of "puddingstone" (Late Devonian Skunnemunk Conglomerate) on Bearfort Mountain. Greenwood Lake is in the valley below to the east. The flat surface of the Schooley Peneplain is quite apparent in the New Jersey Highlands region in the distance (east).