Usage of Geologic Unit Name:
Red Sandstone*
Age:
Miocene, late*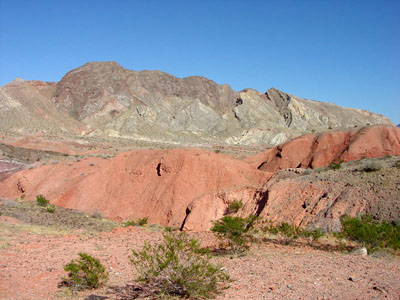 Red Sandstone outcrops along the North Shore Road (in the foreground) in Lake Mead National Recreation Area.







References:

Brady, Rober J., Fryxell, Joan E., and Wernicke, Brian P., 2002, Preliminary geologic map of the Iceber Canyon Quadrange, Clark County, Nevada and Mohave County, Arizona: Nevada Bureau of Mines and Geology, Open-File Reoport 03-18.

Stephen S. Harlan, Ernest M. Duebendorfer, and Jack E. Deibert, 1998, New 40Ar/39Ar isotopic dates from Miocene volcanic rocks in the Lake Mead area and southern Las Vegas Range, Nevada: Can. J. Earth Sci. Vol. 35, p. 495-503.