Usage of Geologic Unit Name:
Rocks of the Grand Wash Trough*
Rocks of Grand Wash Bay
Age:
Tertiary*
Miocene, late*
Pliocene*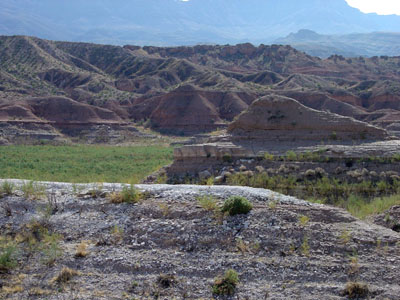 Rocks of the Grand Wash Trough in Lake Mead National Recreation Area near Pearce Ferry.







References:

Bohannon, R.G., 1984, Nonmarine sedimentary rocks of Tertiary age in the Lake Mead region, southeastern Nevada and northwestern Arizona: U.S. Geological Survey Professional Paper, 1259, 72 p., (incl. geologic map, scale approx. 1:790,000).
Beard, S.C., 1993, Tertiary stratigraphy of the south Virgin Mountains, southeast Nevada, and the Grand Wash Trough, northeast Arizona, IN Sherrod, D.R., and Neilson, J.E., editors, Tertiary stratigraphy of the highly extended terranes, California: U.S. Geological Survey Bulletin, 2053, p. 29-32.

Brady, Rober J., Fryxell, Joan E., and Wernicke, Brian P., 2002, Preliminary geologic map of the Iceber Canyon Quadrange, Clark County, Nevada and Mohave County, Arizona: Nevada Bureau of Mines and Geology, Open-File Reoport 03-18.