The rugged basin and range landscape of southern Arizona, New Mexico and West Texas is assigned the name Basin and Range Province (Figure 222). The physiography region extends into northern Mexico continues bordered on the south by the Mexican Highlands and eastern and western Sierra Madre Ranges in Mexico.

The Basin and Range Province experienced mountain building and volcanism during the Laramide Orogeny, the mountain building began about 70 million years ago and extensive volcanism followed between about 35 to 25 million years ago. Crustal extension followed beginning about 18 million years ago, resulting in the Basin and Range structure of the region. Volcanism has occurred in stages, with young volcanic centers of Pleistocene and age are scattered along the eastern margin of the Basin and Range along the Rio Grande Rift Valley. Valles Caldera is part of a supervolcano in the Jemez Volcanic Field around Los Alamos, New Mexico. The super volcano had caldera-forming eruptions 1.5 and 1.1 million years ago, with most recent eruptions 50-60,000 years ago (Figure 223). The Rio Grand River flows down the Rio Grand Rift Valley runs north-to-south along the eastern margin of the Basin and Range Province. The rift valley began forming 35 million years ago and is still active, as evidence by earthquake activity and volcanism as recently as 5,600 years ago. Laramide volcanism features are preserved in Chiracahua National Monument in southeastern Arizona (Figure 224).

The western Arizona part of the region is part of the Sonoran Desert, the eastern part is part of the higher and dryer Chihuahuan Desert. The region is part of the Greater Basin and Range Province that is undergoing crustal extension (producing the horst and graben structure associates with its north-south trending mountain ranges and valleys)(see Figures 183 to 186). The Sonoran Desert wraps around the northern end of the Gulf of California and extends northward along the lower Colorado River and into the low surrounding valleys (including those occupied by Phoenix and Tucson, Arizona). The Saguaro Cactus (Carnegiea gigantea) is an indicator plant for the Sonoran Desert—forests of them are a highlight of Saguaro National Park near Tucson, Arizona (Figure 225).

Big Bend National Park is at the eastern end of the Basin and Range Province in West Texas. Big Bend gets its name from the great bend in the Rio Grande River here it has carved canyons as the ranges and landscape has gradually risen in the region (Figure 226). The Chisos Mountains are another volcanic center associated with the end of the Laramide Orogeny, about 33 to 28 million years ago (Figure 227).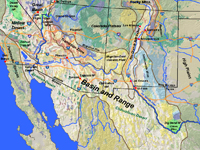 Fig. 222. Map of the Basin and Range Province: Arizona, New Mexico, and West Texas.