51. Atlantic Highlands
The Atlantic Highlands are the highest headlands along the Atlantic Coast south of Maine. On a clear day they can be seen from the southern shoreline from most of Queens, Brooklyn, and especially Staten Island. The view of the Atlantic Highlands escarpment from the Raritan River Bridge on the southbound Garden State Parkway is particularly impressive. However, perhaps the best view of the Highlands is from the bay side of Sandy Hook. The views from the top of the Atlantic Highlands are equally spectacular. Just off NJ Route 36 in Highlands, New Jersey is the Mt. Mitchell Overlook that offers a wide view including the Manhattan skyline, Staten Island, Brooklyn, and Sandy Hook. An equally impressive view is from the top of the north tower of the Twin Lights Museum on the hilltop just south and east of the Navesink River Bridge on Route 36.
The amazing height of the Atlantic Highlands may best be attributed to the effects of glacial rebound; whether other basement faults are involved is unclear. Resistant Tertiary-aged ironstone conglomerate forms a caprock along the crest of the Atlantic Highlands, overlying gently seaward-dipping Cretaceous marine mudrocks. A large abandoned sand pit in the Cohansey Formation is visible along the south side of Route 36 near the hill top west of Navesink, New Jersey (Figure 126). When sea level was lower during the Pleistocene, the Atlantic Highlands was a high valley wall on the south side of the combined Hudson/Raritan Rivers. This river system has since been buried by younger sediments including the recent deposits associated with Sandy Hook Spit. The Beacon Hill Gravel (Pliocene?) is fairly well exposed at the base of the water tower in Highlands (just west of the Mt. Mitchell Overlook [Figure 127]). It is particularly interesting to compare this deposit to the modern gravel deposits on Sandy Hook. They are essentially the same!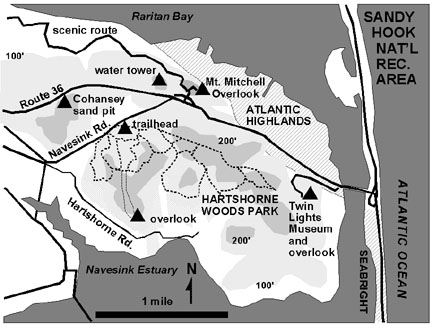 Figure 126. Map of the Atlantic Highlands area overlooking Sandy Hook and the Navesink River estuary in Monmouth County, New Jersey (including Hartshorne Woods Park and the Mt Mitchell Overlook).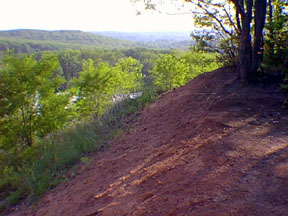 Figure 127. Gravel outcrop of the Beacon Hill Gravel (Pliocene) of the Cohansey Formation near the water tower in Highlands, New Jersey (near the Mt. Mitchell Overlook, Monmouth County).
The underlying Cohansey Sand (Miocene) weathers to form the brown sandy soil throughout the hilltops in the area. Both units can be appreciated by walking through Hartshorne Woods Park in Highlands, New Jersey. This preserve is host to a mixed oak, hickory, beech, maple forest. The upland area is host to a thick understory of mountain laurel, holly, and blueberry that thrive in the acid soil developed on the Tertiary sand and gravel. Chunks of limonite-cemented gravel (bog iron) are common along the trail. This park is particularly scenic when the mountain laurel blooms in late May to early June. A cool morning walk through Hartshorne Woods before a trip to the beaches at Sandy Hook is particularly enjoyable!