33. Coppermines Trail (Delaware Water Gap NRA)
Just east of the Delaware River Bridge at the western end of the Delaware Water Gap is an exit to the Old Mines Road. The Old Mines Road follows the New Jersey side of the river upstream from the Delaware Water Gap. About 7.8 miles north of I-80 is a parking area for the Coppermines Trail on the left side of the road. The trail leads off from the right side of the road up and lead uphill past the old ruins of a copper mining operation. There are numerous old mines in the area; largest is about 100 yards up the trail. A second smaller mine is located next to the creek alongside the trail about a quarter mile uphill from the road (Figure 76). The Coppermines Trail extends from the Mines Road parking area to the ridge top where it intersects the Appalachian Trail.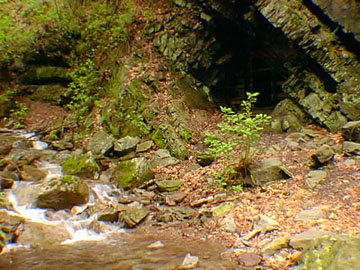 Figure 76. An 18th Century copper mine in the redbeds of the Upper Silurian Bloomsburg Formation in the Delaware Water Gap National Recreation Area, New Jersey.
The copper deposits occur in layers of the Silurian Bloomsburg Shale, or "Bloomsburg Redbeds" that overly the Shawangunk Formation. The name "redbeds" applies to the high iron contented of the silty shale and sandstone that makes up the formation. Redbeds typically form is warm, alluvial environments where the sediment is in contact with air or well-oxygenated groundwater, such as in a desert or on an alluvial plain. The origin of the copper enrichment is unclear. The copper does not occur in breccia similar to the massive copper sulfide deposit in the western United States. Rather, the copper mineralization appears limited to certain stratigraphic horizons within the redbeds, suggesting that it is of sedimentary origin. Concentration of copper within certain beds or zones probably occurred early in stages of diagenesis as the original unconsolidated sediment gradually turned to rock.
The Dutch discovered copper on Kittatinny Mountain in the Bloomsburg Red Beds in the 17th Century. They had inflated beliefs about the value of the mine, and invested in the building of a 100 mile-long road to transport ore from the mine location all the way to Esopus (Kingston), New York on the Hudson. The mines never proved to productive. Attempts to mine copper in this location continued into the 20th century, It was never profitable. The "Old Mine Road" remains as one of the maintained roads within the national park. Park rangers frequently offer guided tours of the mines and ruins during the summer months. If you look carefully, traces of green copper minerals can be seen in the rocks and boulders around the mine. Remember that the copper mines area is now part of the Delaware Water Gap National Recreation Area, and therefore, rock or mineral collecting is not permitted.