Piedmont Province
The Piedmont Province is perhaps best described as the eastern foothills region of the greater Appalachian Mountains. The Piedmont is bounded on the east by the Atlantic Coastal Plain and on the west by the higher mountain ridges of the Blue Ridge Mountains in the south and the higher mountain ridges of the Valley and Ridge Province to the north. The Piedmont extends from Alabama at the south to the Hudson River (New York/New Jersey border area) in the north (Figures 21 and 22). The Piedmont region is characterized by gentle rolling hills, roughly between about 200 to 1000 feet in elevation, mostly forested. The geology of the Piedmont is complex, preserving rocks formed over a billion years through several major mountain-building periods including the Grenville Orogeny in Late Precambrian time. Upheavals throughout the Paleozoic Era resulting in the formation of the Appalachian Mountains and the formation of Supercontinent Pangaea, and then the subsequent rifting as Pangaea as it broke apart in the Mesozoic Era.
A series of rift basins formed and filled in with lava flows and sediments eroding from surrounding mountain regions. These ancient rift valleys are called "Mesozoic Basins" (Figure 23). Sediments and volcanic rocks that filled these basins are mostly of Triassic age (some early Jurassic). A series of Mesozoic-age ancient rift valleys exist along the East Coast from Newfoundland to North Carolina, including the Connecticut River (or Hartford) Basin, Newark Basin (New Jersey-Pennsylvania), Gettysburg Basin (Pennsylvania), Culpepper Basin (Virginia and Maryland), Richmond Basin (Virginia), and Deep River Basin (North Carolina). Other Mesozoic basins exist under the sedimentary cover of the Coastal Plain. These basins formed as ancient supercontinent Pangaea split apart, but only the Atlantic rift basin continued to form into the Atlantic Ocean basin. Perhaps a most famous geologic feature is the Palisades, a wall of diabase (basaltic) volcanic rocks that crops out along the east side of the Hudson River in New Jersey across from New York City (Figure 24).Triassic-age red-beds crop out throughout the Newark Basin (Figure 25).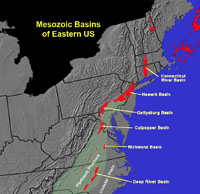 Fig. 23. Mesozoic Basins of the Piedmont Province in the eastern United States.

Major cities located within the Piedmont (along the Fall Line with Coast Plain) include Philadelphia, Baltimore, Washington DC and the Atlanta metropolitan areas (see Figure 16).